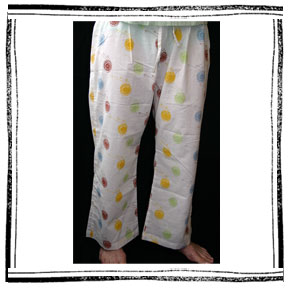 Small 35x18". Medium 36x20". Large 37x22"
UN International Year of Microcredit PJ Pants ($12.00)
The PJ pants were designed and produced by Ashim Kumer Sen who lives in a poor rural community in Bangladesh. Ashim was able to start his own business when he received a microfinance loan and training. Today the business has grown and now hires five employees. With the income from the business, Ashim is now able to send his siblings to school.

These comfortable pajama pants feature the logo of the UN International Year of Microcredit in a rainbow of colors.