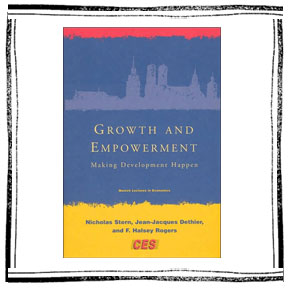 Growth and Empowerment - Making Development Happen ($35.00)
The authors propose a new strategy for development drawing on extensive academia, field and institutional experience in development economics. The strategy is based on two interrelated approaches: building a climate that fosters investment and growth; and simultaneously empowering low income people to participate in growth and investment. Economic development is seen as a dynamic process in which microentrepreneurship, innovation, flexibility, empowerment and mobility are crucial components.

Nicholas Stern is the Head of the Government Economic Service and Second Permanent Secretary to the Treasury of the United Kingdom. Previously he served as Chief Economist and Senior Vice President at the World Bank, and has held academic positions at London School of Economics, Oxford University, and MIT.

Jean-Jacques Dethier is the Lead Economist in the Office of the Senior Vice President and Chief Economist at the World Bank and Adjunct Professor at Georgetown University.

F. Halsey Rogers is Senior Economist at the World Bank.