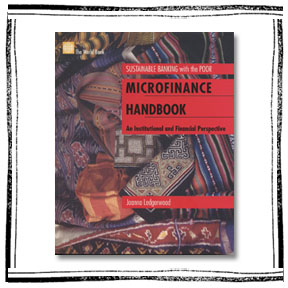 Microfinance Handbook: An Institutional and Financial Perspective ($22.00)
The handbook consolidates guiding principles and tools that promote sustainable microfinance and create viable microfinance institutions.

The author takes a global perspective, drawing on lessons learned from the experiences of microfinance practitioners, donors, and others worldwide. The volume extensively covers regulatory structure, policy framework and the components of institutional capacity building and the management of microfinance institutions.

The handbook has three sections. The first section, Issues in Microfinance Provision, adopts a macroeconomic perspective to analyze general microfinance issues. The second section, Designing and Monitoring Financial Products and Services, narrows the focus on the provision of financial intermediation taking a more technical. The final section, Measuring Performance and Managing Viability, focuses primarily on assessing the viability of microfinance institutions.