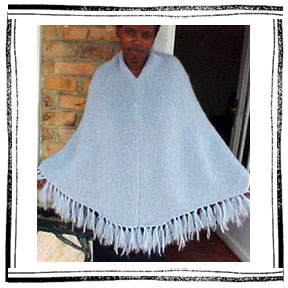 Rwandan Peace Ponchos ($55.00)
Esperance Nyirarusimbi, a Rwandan Tutsi, lost her mother, father and two sisters in the 1994 genocide. During the war, she was forced to hide in the forest for several months, emerging only at night to scour and beg for food. Miraculously she survived and is now rebuilding her life through the UN sponsored Peace Ponchos project.

The project is organized by the United Nations High Commission on Refugees and other development organizations. The project trains and employs more than 400 Rwandan women. The success of the project brings hope and income to the women and their communities.

The beautiful ponchos are made from feather soft mohair and wool. The ponchos come in two colour schemes: blue with white embroidery; and coral with brown embroidery.