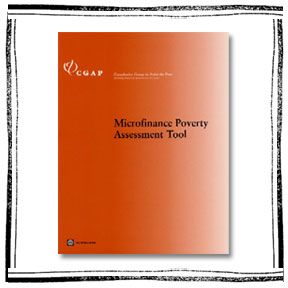 Microfinance Poverty Assessment Tool ($18.00)
The Microfinance Poverty Assessment Tool was developed as a much-needed mechanism to increase the transparency of the outreach of Microfinance Institutions (MFIs). The book is intended to assist donors and investors to integrate a focus on poverty into their appraisals and funding of financial institutions through a more precise understanding of the microfinance recipients.

The poverty assessment tool allows for a more holistic understanding of MFI when used in conjunction with an institutional appraisal of financial sustainability, governance, management, staff and systems. The book provides accurate data on the poverty levels of MFI clients relative to other people living in the same community. It uses a more standardized, globally applicable, and rigorous set of indicators than those used by conventional microfinance targeting tools.