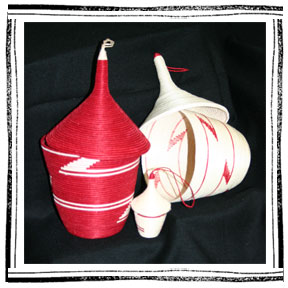 4" high, 3" diameter
Rwandan Peace Basket - small ($6.00)
In Gitarama province in Rwanda, widows weave traditional baskets to create a better future for their families and community. As the women weave, they also heal their body, mind, and soul.

After the war, women represent more than 70% of the Rwandan population. Previously women were excluded from positions of influence, however today women hold positions such as microentrepreneurs, elected officials and community leaders.

The baskets contain a message of hope and are available in two color schemes: white with red stripes; and red with white stripes.