Croatia
In Croatia, public initiatives are planned to increase awareness of how microcredit enables community development at all levels and strengthens capacity building, especially in low-income areas.

Kazakhstan
In Kazakhstan, about 25,000 people receive microcredit as a result of a program adopted in 1998 aimed at reducing poverty, unemployment, and developing entrepreneurship. The Committee for Support of Small Business under the Ministry of Industry and Trade is the coordinating agency on microcredit and jointly with the Ministry of Agriculture is responsible for formulating a Programme for microcredit development. Several laws on microcredit organizations have been adopted last year to promote access of entrepreneurs to financial resources.

No scheduled events.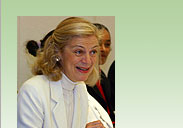 Nane Annan, lawyer, painter, and wife of the UN Secretary General
"I hope the International Year of Microcredit will give even more women access to microfinance services, enabling them to fulfill their hopes and dreams for themselves and their families."