The Global Microentrepreneurship Awards
Celebrating the Spirit of Entrepreneurship and Innovation

During the month of November 2004, a new initiative called the Global Microentrepreneurship Awards recognizes small business owners in countries around the world. The effort, spearheaded by a group of US graduate students, is an official event in the launch of the International Year of Microcredit. The competitions are taking place in Afghanistan, Cambodia, the Dominican Republic, Indonesia, Mexico, Mozambique, the United States, Pakistan and Rwanda. Prominent leaders from the participating countries are judging the businesses to select winners whose businesses have the greatest economic and social impact on their families and communities. The Global Microentrepreneurship Awards celebrate the entrepreneurial spirit of small business owners by recognizing their innovation and their perseverance under even the most challenging conditions.

The winning entrepreneurs are scheduled to open stock exchanges on 18 November in the following cities: Amsterdam, Jakarta, Karachi, Manila, Maputo, Milan, Mumbai, New York (NASDAQ), Zurich, Santa Domingo (Dominican Republic), London, Madrid and Nairobi.

Following are some highlights from the competitions:

New York, USA
The New York Global Microentrepreneurship Award ceremony was held at Lehman Brothers on 28 October. New York City microentrepreneurs from all types of business ranging from corner grocery stores to hairbraiding parlors were judged on the basis of family and community impact. Judges included Raluca Allison from Yale Law School; Marcia Barris, Vice President of NASDAQ; Jean Hamerman, the Deputy Commissioner of the NYC Department of Small Business Services; Theodore Janulis, Managing Director of Lehman Brothers and Mark Rostick, Director of Intel Corporation.

And the winner is . . . Fatimata Lonfo.
Fatimata Lonfo fled Cote d'Ivoire in October 2001. Now the proud owner of Windyla's Boutique and Hair Braiding Salon in Staten Island, Fatimata credits her success to God, to perseverance and to ACCION New York, a non-profit microfinance organization that gave her first small business loan. Her business supports her and her three children, the oldest of whom started community college this fall. Fatimata along with runner up winners Jesus Martinez, Maria Cortez and Stanley Springer will participate in an awards ceremony at NASDAQ on 18 November. Upon learning that she would be received at the opening of the NASDAQ on the launch day of the International Year of Microcredit, she exclaimed, "I don't know that there's such a big event waiting for me again. That makes me feel ah, like an important person now!"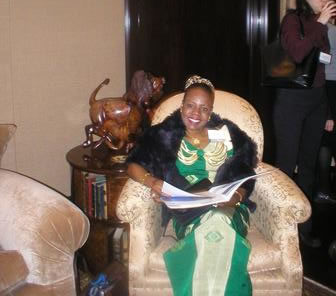 Fatimata Lonfo, Boutique owner and winner of the New York GMA
Maputo, Mozambique
On 4 November, the Mozambique Global Microentrepreneurship Awards were held in Maputo at the Centro de Conferencias do Instituto de Formaçao das Telecomunicacoes (TDM). The event included workshops on how to grow businesses and identify client needs. Marylene Spezzati, Resident Representative of UNDP to Mozambique, delivered a keynote address on the opportunities provided by the provision of basic financial services in Mozambique, as well as the future of microfinance in the country. Joao Carrillo, Vice Minister of Agriculture served as president of the jury.
And the winner is . . . Lize Nhaca.
Lize Nhaca of Catembe, owner and manager of a small fishing enterprise and client of Hluvuku-Male Yeru, is Mozambique's Microentrepreneur of the Year. In 2002, Lize was unable to work for three months due to illness. When she recovered, many of her fishing nets were ruined. Lize decided to apply for a loan with Hluvuku-Adsema Fundo de Credito Male Yeru to cover the costs of resuming her business. Since then she has been granted four loans, the first one in January 2003 for a total of around US$260 and the last one in September 2004 for around US$690. With the support of Hluvuku's financial services, Lize's commercial activities recovered, allowing her to financially support her extended family and start building a new concrete house. In addition, her company has generated four permanent job posts, seven temporary ones, and supports the work of self-employed women that buy her fish to sell in Catembe and Maputo. Lize Nhaca will be flown to Zurich by responsAbility to present her case at the SWX Swiss Exchange. The contest second-prize winner and the four runners-up will open the Maputo Stock Exchange on 18 November to launch the International Year of Microcredit.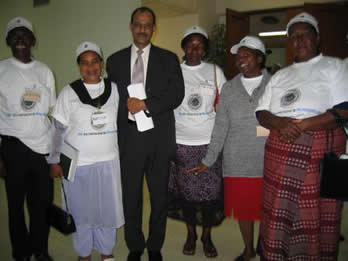 Mozambique GMA finalists. Lize Nhaca, owner and manager of fishing enterprise, is third from right.
Cambodia
The Global Microentrepreneurship Awards in Cambodia were held Friday, 12 November. His Excellency Sok Siphana, Secretary of State for Commerce delivered the keynote address. The categories for the prizes ranged from "Best Artisan" to "Most Innovative Business" to "Best Demonstration of Overcoming Adversity". Nineteen loan officers from registered Cambodian microfinance organizations also competed for prize money and a chance to attend international training courses.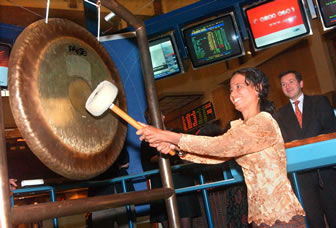 Pat Loun opens the AEX Amsterdam Stock Exchange on November 18th
And the winner is . . . Toun Phaek
Toun Phaek is married with three dependents and runs a transportation business in the bumpy province of Kampong Tom. After she borrowed from VFC, she expanded her business, began earning a greater income and saved until she had enough to buy a truck. Her transportation business provides a reliable way for people to travel and gives her community access to the wider market. With the award for "Most Innovative Business", she is one of six winners. As the winner in the "Best Artisan" category, Pat Loun, a carpenter who makes souvenirs with her husband and adult sons, was selected by the Dutch Microfinance Platform to represent Cambodia at the opening of the Amsterdam Stock Exchange in the Netherlands to mark the launch of the Year. She received her first loan of US$500 in May of 2002 to buy raw materials, such as pieces of wood, soft rock and plaster to make wooden herons and statues for a souvenir shop. She has received subsequent loans to expand her business and with her next loan, she will buy a machine to assist in the carving of the harder wood and bamboo.
Dominican Republic
The Dominican Republic Global Microentrepreneurship Awards were held on Friday, 5 November at the Gran Hotel Lina in Santo Domingo. Twenty-four finalists were in attendance and were recognized for businesses ranging from wholesale baking to meat processing to small corner stores. Judges included the Sub-Secretary of Finance, the president of one of the Dominican Republic's largest telecom companies, and the vice-president of the Dominican Stock Exchange.
And the winner is . . . Martah Maritza Disla
Of the six winners, Martah earned the prize in the "Best Micro Services Business" category. She operates a home school that offers initial and basic education at a low cost to her community. Her school serves 35 students in the morning and 38 in the afternoon. Before starting her school Ms. Disla worked in a state office, but she dreamed of starting a school. When she started out, the children had to sit on salsa tins and she needed chairs for them to sit on, among other basic supplies. She held class on her patio and the children would have to come into her house to stay dry when it rained. Thanks to a loan from ASPIRE, she was able to buy chairs for the children. With a second loan, Ms. Disla put a roof over her patio and increased the number of children attending. With additional loans,she purchased a blackboard, desk and closet. Martha is described by ASPIRE as a true community leader who not only earns money for herself and her family but also provides an important service to her community.
Mexico
The Mexican Global Microentrepreneurship Awards were held on Friday, 12 November at the Sheraton Hotel Centro Histórico. Fifteen finalists and over 100 guests were in attendance. Categories included "Best Entrepreneur", "Fastest Growing Business", "Greatest Impact on the Community" and "Best Cooperatively-Owned Business". Judges included the deputy mayor of Mexico City and the founder of one of Mexico's largest restaurant chains. The moderator for the event was Dra. María del Carmen Díaz, Coordinator General of PRONAFIM.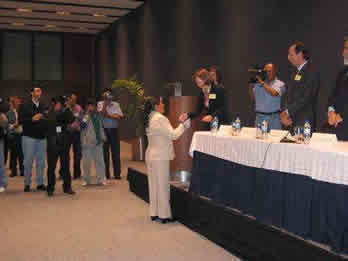 All eyes on Sofía Nieto as she accepts congratulations from the judges.
And the winner is . . . Sofía Nieto
Sofía Nieto, who won the award for "Fastest Growing Business", operates a workshop dedicated to the artistic design, cutting and stitching of clothing. Her workshop is located in the home that she and her family rent and Ms. Nieto counts on assistance from her three children and her husband. According to Ms. Nieto, she "didn't even know how to sew a button" in 2003 but she was unemployed and wanted her three children to be able to attend good schools so she took a course in cutting and stitching clothes. With an old sewing machine, she began to make pajamas that she sold in the market. To Ms. Nieto's surprise, her sales picked up quickly, but without sufficient machinery she contacted FONDESO and formed a solidarity group. Her first loan was for 300 dollars and she is now taking loans of more than $2,000 and rapidly expanding her business. Other winning businesses included a greenhouse, a hardware store, a juice making business and a doll maker.
For more information about setting up a contest in your country please click here or contact: Carola Saba at Carola.Saba@undp.org