Be sure to visit our Microfinance Matters page where you can sign up for and view the Microfinance Matters newsletter.

International Year of Microcredit 2005 launched in Nepal
By Sangita Khadka, UNDP Nepal
UNDP, UNCDF and local NGO partners recognized the achievements of two successful Nepali women entrepreneurs during the launch of the International Year of Microcredit 2005 in Kathmandu.
Bhim Kumari Subba and Phuleshwori Devi Chaudhari were chosen by their respective cooperatives as most successful entrepreneurs.
"If we are thinking in terms of democratic, equitable and sustainable development, then we must ensure that people at large are part of development, which can be achieved through poverty alleviation. Microcredit is an integral part of the whole poverty alleviation phenomenon in developing countries," said Dr. Mohan Man Sainju, Vice Chairperson of Poverty Alleviation Fund (PAF).
Alessandra Tisot, UNDP Deputy Resident Representative, remarked that a majority of micro credit clients are women, who tend to be more successful than men in investing the money.
"UNDP is very active in promoting gender equity at all levels of society, and microcredit is clearly a way to operationalize gender equity policies and to empower women in practice," she said. "We should use the International Year of Microcredit to build awareness on the importance of fostering inclusive and sustainable microfinance institutions that help people improve their own lives."
Bhim Kumari Subba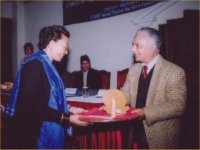 After completing 10th grade, Bhim Kumari came to Kathmandu and learned typing in the hope of finding a job. Unable to find work, she joined the Women's Co-operative Society Ltd in 1999. With a loan from her co-operative, she started a group handloom project along with other four members. Presently, her project produces handloom products worth Rs.1,500,000 per year (US$20,547) with a net profit of Rs.200,000 (US$2,739).
She has been turning a reasonably good profit from her project, paying her loan amount in time, providing active leadership to the group members. Her project has provided jobs for 20 other women, including survivors of sex trafficking. She also provides training to destitute women.
Phuleshwori Devi Chaudhari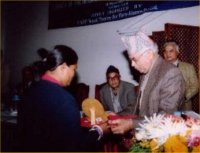 In 1994, Phuleshwori Devi's land was washed away by flood, leaving her family of six with food production capacity of only a few months.
Fortunately, the year before Phuleshwori Devi had joined a cooperative promoted by the Swabhalamban Bikas Bank. She took an initial loan of Rs.2,000 ( appox. US$27), which she used to buy rice to sell at the weekly market. She made a profit of Rs.700 (about US$10) and bought a baby goat, which in turn she sold at a profit once it matured. After 7 months, she took a second loan of Rs.5,000 (US$68) and bought other goats. After several rounds of loans and payments, she now has a grocery store with a stock worth Rs.50,000 (US $684). She has also managed to purchase land of her own and has become the family breadwinner.

Microcredit a 'Practical' Way to Fight Poverty
María Vega
ROME, Jan 21 (IPS) - Of the wide range of strategies identified for combating world poverty, the promotion of microcredits -- and other forms
of financing for people with limited resources in developing countries -- has proven to be a highly effective tool, say experts from international
agencies.

In fact, the success of these initiatives has led the United Nations to designate 2005 as the International Year of Microcredit.

"Microcredits are one of the most effective ways to fight poverty, and represent a tool that could contribute significantly to achieving the Millennium Development Goals," said Lennart Bage, president of the International Fund for Agricultural Development (IFAD), a specialised U.N.
agency.

Bage spoke with IPS at the presentation of the Millennium Project report, "Investing in Development: A Practical Plan to Achieve the Millennium Development Goals", earlier this week in Rome, where IFAD is based.

Microcredit programmes can play an extremely important role in
development strategies because they give small farmers and traders the possibility of increasing their earnings and improving their standard of
living through the creation of small businesses, he said.

Bage cited the example of Egypt, where the establishment of "microenterprises" in the agricultural sector has led to encouraging results: "Crop production has increased by as much as 100 percent in some cases, in addition to other benefits."

There have been similarly successful experiences in Latin America, particularly in Argentina, Mexico, Peru and Bolivia, where 80 percent of
the microcredit-funded initiatives are led by women.

Nevertheless, Bage pointed out, 70 percent of the world's poor still lack access to credit, savings and money transfer services, which are essential elements for the creation and management of small businesses.

IFAD has joined with the Food and Agriculture Organisation (FAO) and the World Food Programme (WFP) -- two other Rome-based U.N. agencies -- in stating that it will be possible to achieve the eight Millennium Development Goals (MDGs) by the established deadline of 2015 "if the
developing and industrialised countries take action immediately" by implementing plans and projects, in which microcredit could play a major
role.

The eight MDGs, adopted in the year 2000 by the 189 U.N. member countries at the time, encompass specific targets such as achieving universal primary education and halving the proportion of the world's
population suffering extreme poverty (those who earn less than one dollar a day), hunger, and lack sustainable access to safe drinking water and basic sanitation -- all by the year 2015.

The goals also include promoting gender equality and empowering women, reducing child mortality, improving maternal health, combating
HIV/AIDS, malaria and other diseases, and ensuring environmental sustainability.

The three Rome-based U.N. agencies are optimistic about reaching these objectives within the established timeline, although current
statistics on world poverty would seem to indicate otherwise.

One in every five people in the world today lives in extreme poverty, which translates into roughly 1.2 billion human beings. Over 850 million suffer
from chronic hunger, close to 11 million children die every year from preventable diseases such as malaria, diarrhoea and pneumonia, 114 million children have no access to schooling, and 584 million women are
illiterate.

One-third of the world's poor live in rural areas and depend primarily on agriculture, a sector in which official development assistance (ODA)
has been steadily declining since 1988. Today, only eight percent of this aid goes to rural development.

IFAD, FAO and WFP concur that "the leaders of the poorest countries must take the necessary steps to ensure good government and solid economic planning," while the international community should take on strategies that will support them.

Pedro Sánchez, who presented the Millennium Project report in Rome, told IPS that in order to effectively combat poverty, there has to be a change in attitude on the part of leaders, governments and the international community, one that leads to concrete actions.

"We have to be realistic and confront the countries and leaders who opt to perpetuate poverty for political purposes. We must act to genuinely help
those who live in a never-ending 'tsunami' of hunger, poverty and disease, like the countries of sub-Saharan Africa," said Sánchez, director of tropical agriculture at the Earth Institute of Columbia University, in New York.

According to Sánchez, everyone knows, in theory, what the most
effective strategies for fighting poverty should be, but what is needed now is "greater political will and more commitment."

An essential element, he noted, is to stop forcing developing countries to become victims of the "loan business" when they should really be receiving donations.

"Many countries pay five times more on debt servicing than what they are given in development aid," said Sánchez, pointing to the example of
Kenya, where 56 percent of its 31 million inhabitants live on less than a dollar a day.

Kenya receives around 100 million dollars annually in foreign aid, but spends roughly 500 million on paying off its foreign debt. "And we continue to increase that debt through more loans," he added.

The three Rome-based U.N. agencies are convinced that the goals set for 2015 can be fulfilled if effective strategies are adopted to reduce hunger and poverty, including initiatives aimed at political reforms, investment,
increased productivity, and the creation of service and financial institutions for rural areas.

In order to promote thriving economies with sustainable long-term growth, where people can successfully fulfil their own needs, it is essential to
provide access to employment, education, water, credits, and other basic needs, according to the agencies.

It has been estimated that the Millennium Development Goals could be met by 2015 with an annual investment of 100 billion dollars, but only half
that amount is currently devoted to this objective.

Experts at UN to look at evolving role of microfinance in reducing poverty
With the United Nations International Year of Microcredit 2005 just two months old, a blue-ribbon group is holding a major symposium Saturday at UN Headquarters in New York to highlight changes in the use of the small loans to achieve the Millennium Development Goals (MDGs) of halving extreme poverty by 2015.
Since its launch on 18 November last year, "the International Year of Microcredit has given us an opportunity to harness enormous momentum and the potential of microfinance, channelling it to an ambitious and innovative work plan that will contribute to the Millennium Development Goals," one of the symposium's keynote speakers, Christina Barrineau of the UN Development Programme (UNDP), said in an interview with the UN News Service today.
Before joining the UN Capital Development Fund (UNCDF), Ms. Barrineau - the chief technical adviser for the international year - established a global network for innovation in microfinance, linking major and small banks, along with a Thai Government savings bank and a Kenyan building society.
Other keynote speakers at the event presented by the Financial Women's Association (FWA) include investment banker Elizabeth Littlefield, now a Director of the World Bank and the chief executive officer of the Bank's Consultative Group to Assist the Poor (CGAP), which builds microfinance systems for the destitute.
The Group's 28 development agency members mandate it to develop and set industry guidelines, provide technical, strategic and policy advice, develop technical manuals and services and deliver training and research, according to the World Bank.
The symposium will look at microcredit, microsavings and microinsurance, as well as the role of remittances from abroad. It will answer questions about the barriers to the expansion of microcredit, the role of private capital, whether there is too much microcapital or too little, and how microfinance can reach many more poor people in the next five years.
"Microfinance is a win-win situation," Ms. Barrineau said. "Financial institutions and the private sector have profitable new markets, governments have stable financial sectors and poor people can seize opportunities."
FWA President Kelly Mathieson noted that microfinance started in the philanthropic community and is now capturing real interest in mainstream capital markets. "With the help of the United Nations, we have brought together top experts from banks, private equity funds, microfinance networks and private donor organizations to explain microfinance and how individuals can participate."
Meanwhile, the UN Department of Economic and Social Affairs (DESA) is planning several events to mark the microcredit year, including an expert group meeting and a youth roundtable on "Microcredit/Microfinance and poverty reduction" in June.
DESA also will highlight the role of cooperatives in promoting microcredit for poverty reduction on the International Day of Cooperatives on 2 July and will observe the contributions of microcredit on the International Day for the Eradication of Poverty on 17 October.

It's Better to Provide a Fishing Rod Than Fish
Leony Aurora, The Jakarta Post, Jakarta
One of the fondest memories Anggun Cipta Sasmi has of her late grandmother and hometown Yogyakarta is of women sitting on the floor, drawing batik patterns and carefully painting them with brownish wax.
"The scent of wax ... it always brings back images of eyang (Javanese for grandma) and the other old ladies and their hands moving graciously," said Anggun, no longer the small-town girl but international diva -- living in Paris and traveling the globe to sell millions of copies of her albums.
Eyang was the first woman microentrepreneur known to Anggun, the local star who moved to France in the mid-1990s and shot to global stardom with her hit Snow on Sahara seven years ago.
The 30-year-old singer did not follow her grandmother's footsteps by empowering women through home industry.
Nevertheless, eyang would have been proud to learn that her granddaughter is now a spokesperson for the United Nations International Year of Microcredit 2005.
Standing side by side with other internationally renowned artists -- Golden-Globe nominee Natalie Portman, West African tribal and pop rhythm star Angelique Kidjo, Senegal singer Baaba Maal and Algerian musician Souad Maasi -- Anggun is representing Indonesia, a country praised for its microfinancing success.
"Microcredit is important because it helps women to play a greater role in supporting their families' finances, as my grandma did," said Anggun on a recent visit here in her capacity as a spokesperson.
"It provides knowledge, motivation and, most of all, an opportunity for poor people to break away from poverty."
Alleviating poverty is indeed the main goal of the International Year of Microcredit 2005, which was launched in November last year at the UN headquarters in New York.
Microenterprises make up the biggest part of business communities in developing countries, such as Indonesia and Bangladesh, which both see a discouraging number of people living on less than US$1 per day. Such enterprises -- proven strong as they survived the monetary crisis in 1998 -- are seen as the answer to providing jobs and better income for most people.
However, many small businesses find it difficult to grow as they do not have the capital to expand. Borrowing from banks, with their strict prudential procedures that require collateral for loans, is not a viable option.
A pop singer may seem to some an unlikely candidate to be talking about microcredit. So far-fetched in fact, that the UN did not manage to contact Anggun through their widespread network but through her fan website.
"There were numerous messages in the web forum, basically saying that they were looking for me for a UN mission," said the down-to-earth diva, speaking in slightly odd-sounding Indonesian due to her time abroad.
"I feel so honored, but also afraid that I cannot fulfill their expectations."
However, with number-one hits and blossoming popularity, Anggun's presence in Indonesia had the desired effect: extensive media coverage, particularly from infotainment and television programs targeting housewives.
"My role is to talk as best as I can about microcredit. It's minuscule compared to those who work in the field," said Anggun humbly.
It will be the role of Indonesia's national committee for microcredit to come up with an initiative for the disbursement of microcredit with less paperwork and simpler requirements -- basically little or no collateral -- and wider access for microentrepreneurs when they seek assistance.
The singer, who went from regular teenager to international fame with her album Tua Tua Keladi (The Older The Better) at the tender age of 16, however, made use of the publicity to the fullest.
She studiously slipped in a message about microcredit and its importance amid the more commercially selling questions, like her marriage with her French manager, whether she was planning on having babies, and her upcoming new album in February.
"What I like about microcredit is the approach, that this is not charity," said Anggun in one of her many interviews that she always faces with a smile on her face.
"It's an ongoing effort. It's providing the fishing rod instead of the fish," she said.
To prepare for her new role, Anggun studied the materials provided by the UN and the national committee. "It feels like taking a test," she said, followed with a hearty laugh.
She also asked about a lot of things, particularly how businesses work, when she made a short visit to an entrepreneur in Sumedang, West Java, during her three-day stay in Indonesia.
Nevertheless, Anggun readily admits that she is not an expert, nor does she pretend to know all the figures, numbers or strategies.
"As I said, I'm no economist," she said.
"I'm just a post(wo)man, delivering the message, that microcredit is there, and that it works."
www.thejakartapost.com/detailfeatures.asp?fileid=20050118.S02&irec=1

Credit-Worthy Cause
By Oisika Chakrabarti
Raghuram Rajan, economic counsellor and director of the research department at the International Monetary Fund, started his speech at the Pravasi Bharatiya Divas 2005, the event organised jointly by the ministry of overseas Indian affairs and Ficci, in Mumbai by saying that the India fever had caught on in the world's investment community.
"Nowadays, the Western press rarely mentions that certified growth miracle, that leviathan of global trade, China, without adding and India. In an admittedly unscientific test, a Google search reveals over 10 times more references linking India and China than India and tiger, and 100 times more than India and maharaja," Rajan said.
And considering that UN has dedicated 2005 as the international year for microcredit, in an effort to build support for making financial services more accessible to poor and low-income people, India is likely to remain top of the mind for Rajan who is the first Indian to hold the coveted post of chief economist at the IMF.
Author of the book Saving Capitalism from the Capitalists, he now joins an impressive list of who's who from the financial world who have formed the advisor's group to the UN's International Year of Microcredit.
Chaired by Citigroup's vice chair Stanley Fischer, the group consists of top financiers and bankers.
So what does microcredit actually mean to the poor individuals or households? "It can mean a range of things -- it can make an enormous difference in the lives of poor people and substantial wealth generation. It may mean working capital for someone to run a dhaba-- which in turn severs the link to an exploitative local moneylender-- to having productive assets during a family illness. It also means self-respect and many NGOs working in India often point out this element of self-respect especially for women since a bulk of micro-credit initiatives focus on women. When women generate wealth, this changes the power equation in many small households," says Rajan, who prior to the IMF job, taught at the Graduate School of Business at the University of Chicago where he is the Joseph L. Gidwitz professor of finance.
His research is broadly on the role of institutions, especially financial institutions, in fostering economic development.
In 2003, he was awarded the inaugural Fischer Black Prize by the American Finance Association for contributions to finance by an economist under 40.
An alumni in electrical engineering from IIT-Delhi and MBA from IIM-Ahmedabad, Rajan got his Ph.D. from MIT and was a visiting faculty member at the Indian School of Business, Hyderabad.
Also an advisor to Sebi, he feels that when large state-owned banks undertake micro-credit it could breed corruption and lack of efficiency.
"It is also hard for central banks to do credit assessment especially for people with limited collateral. Just like credit assessment is difficult, so is ensuring repayment. Where there is promise is the self-help and mutual-help groups, which are part of NGO programmes. Also with India already having a burgeoning technology culture, it would be good to have technology to support this work. If we can have individual ID numbers like extending the PAN number and if there is a way to track credit history through technology, it will be a good starting point. Using technology can also reduce the cost of credit evaluation and credit delivery," feels Rajan.
He also feels that it's time for private banks to get into microcredit. "The year of microcredit is a way of focusing attention on microcredit and microfinance and to assess what initiatives are required. Once we understand what actually works and what doesn't, the real processes can be understood. With more private banks getting involved and not just NGOs, it is very encouraging. Commercial banks obviously see that there is a profit to be made. Reputable banks like ICICI, Citibank, ING Group are getting involved -- banks that are typically going into this with business motives and because they see that there is a profit to be made. This combination of the financial strength of large banks with the lending acumen of NGOs is a very positive development. With more private involvement, many of the impediments to microfinance will be better understood and this can lead to necessary regulatory steps being taken," he adds.

Rush Micro Aid to Women Hurt by Tsunami
By Barbara Crossette
WeNews commentator
Barbara Crossette does not always favor microcredit. But as widows and low-wage workers in countries like Sri Lanka struggle with the devastation of the tsunami, she says now--if ever--is the time for lots of small aid packages.
Editor's Note: The following is a commentary. The opinions expressed are those of the author and not necessarily the views of Women's eNews.



(WOMENSENEWS)--Microcredit programs, especially for women, have been justifiably criticized in the past for falling short of real development aid.
The programs--in which lenders extend small loans to individuals or very small enterprises--are often too small to make any long-term difference and impose interest rates around 20 percent--too high to allow for much real capital formation.
While micro credit has been a phenomenal success by some terms--the number of borrowers topped 55 million by 2004 and the United Nations is making this the Year of Micro credit--critics also pointed out that it is no panacea.
Low income, they say, is only part of the poverty trap. Poor health, lack of sanitation, bad schools or no schools at all and a low status of women in society are burdens that limit the ability of loans to actually improve life. The U.N.'s Development Program measures these drawbacks in an annual report.
Rounaq Jahan, a Bangladeshi feminist and author, has argued that there is scant evidence that microcredit alone empowers women.
But if ever the time and place were right for the quick introduction of a huge infusion of microcredit loans, it is now, in the stricken coastal regions of South and Southeast Asia.
While government leaders talk about debt relief for nations that may or may not transfer those savings to local people most affected, a strong chorus of economists has been saying, "Hold on. The financial effects of this tsunami disaster are not going to be felt mostly at the national level."
Small Entrepreneurs Flattened
For example, in the hard-hit tourist industry, economists are now calculating that more than three-quarters of business losses will be borne by small and largely uninsured entrepreneurs. You know them: the seaside restaurant owner, the guy who rents beach chairs, the woman sewing and selling sarongs.
Women. That's the other part of this equation. Among all the famous voices and faces heard and seen on television screens in the last few weeks, only James Wolfensohn, president of the World Bank, has articulated the importance of women to rehabilitation and relief. Wolfensohn was speaking at an impromptu news conference while touring Sri Lanka, where many fishermen died and left behind women who may never have had to work for pay and children whose needs will have to be met.
Sri Lankan women are, on the whole, well educated--the country has one of the region's highest female literacy rates. As a result, they--along with Thai women--are in a good position to learn new skills to compensate for losses. So let's get going: This is the best place to start.
Wolfensohn, who says that he is planning to step down as World Bank president in June, has been one of the strongest promoters of women in the larger United Nations system. The World Bank has been focusing for several years on the crucial role of women in development, while the United Nations itself has weaseled out of its commitment to women on several fronts.
U.N. Leaders Buckle on Women's Rights
Most notably--and despite urging from U.N. agencies as well as nongovernmental organizations--U.N. leaders, bowing to a range of conservative governments, have allowed gender rights, sexual choices and universal access to health services for women and girls to be eliminated from the Millennium Development Goals, those international targets for eliminating or sharply reducing poverty by 2015.
Without giving women these tools to take charge of their lives, neither poverty nor HIV/AIDS can be mitigated. That's because women are critically important to families and families are the building blocks of communities. The devastated areas of Asia would prove the point, if the world would stop looking only at the big macroeconomic picture and begin focusing on a million individual economic and financial needs.
Yes, the high cost of microcredit interest rates can be crippling over the long term. And yes, the claims of microcredit have also been questioned by anecdotal evidence that a lot of the loan money was collected by women and then given to men.
In the wake of this disaster, that problem should be forgotten and the short-term needs of people should be the top priority.
In the fishing communities of Asia, many hardworking men who survived have no assets other than a ruined boat, or no boat at all. In television interviews they say that they can live with interest rates of 20 percent or higher, just to get back to sea. They know that this is a one-time expense that is essential to future economic independence, and they deserve to be heard, too.
Put it to the test.
Barbara Crossette was chief correspondent for The New York Times in Southeast Asia and South Asia and later the paper's U.N. bureau chief.

Women of China -- International Year of Microcredit Campaign Launched in China with the Visit of UN Emissary, HRH Princess of Belgium
The International Year of Microcredit 2005, the United Nations' first worldwide campaign to promote microcredit was successfully launched in New York on November 18, 2004. To launch this global campaign in China, Her Royal Highness Princess Mathilde of Belgium, member of the UN emissaries group of the Year, visited microfinance projects in Tongzhou District, Beijing on November 22, 2004 during her official visit to China.
The International Year of Microcredit 2005 "offers a pivotal opportunity for the international community to engage in the shared commitment" to "build inclusive financial sectors that help people improve their lives," said Kofi Annan, Secretary-General of the UN in New York when launching the Year.
"The United Nations is counting on the International Year of Microcredit 2005 to help galvanize implementation of the Millennium Development Goals to halve the population of the world living in extreme poverty by 2015," said Khalid Malik, the United Nations Resident Coordinator and the United Nations Development Program (UNDP) Resident Reprehensive, when he accompanied Princess Mathilde for the visit to the microfinance projects in the Chinese capital.
In Tongzhou, Yang Hailing, a 44-year-old women and group leader of a microfinance workshop, shared her experience with the Princess on how she has been using microfinance loans to set up a fabric workshop to train more than 2,000 rural women to make hand-made knitting products.
"Microfinance is a new economic means that effectively increases reemployment opportunities for vulnerable rural women like me and helps us to have a better life," said Yang.
Congratulating Yang and other women for their work, the Princess said: "The Year of Microcredit will highlight how women's talent and innovation, together with access to credit and savings can give them the power to make long term investments in their families, communities and their children's lives."
According to Zhang Xiaoyan, the Chairperson of Tongzhou District Women's Federation, this microfinance project was created based on the experience from a previous project supported by UNDP, the Australian Aid for International Development and the All China Women's Federation in Tianjin. It has introduced innovative interventions of microcredit fund and support to establish women's business incubation centers for job creation and reemployment of laid-off women workers.
UNDP is one of the international agencies who first introduced microfinance into China in early 1990s and piloted its microcredit program in 17 provinces and two municipalities with a revolving fund of US$10 million. Since then, over 60,000 poor clients have benefited from these projects. UNDP is currently supporting the People's Bank of China to review its legal framework and assist the central bank to develop policy and regulations on microfinance development in China. Other UN agencies, such as UNICEF, WFP/IFAD and UNHCR have also used microcredit as a conduit for income generating activities and poverty reduction.
The campaign for the International Year of Microfinance in China provides a platform for convening all key stakeholders to strengthen the financial sector and make it more inclusive. The current reform of its regulatory and supervisory oversight mechanisms will enable it to benefit a larger number of the Chinese population.